Portraits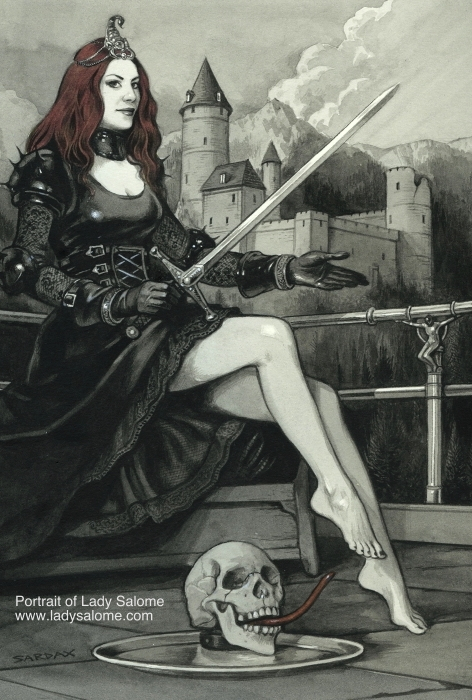 Lady Salome, a mistress from Germany, wished for a fantasy-based theme and
taking her name as a starting-off point we thought of a head on a silver platter, though that seemed a little gruesome.
A skull with tongue licking her feet seemed a better idea.
She wears a rather fetishy medieval dress and carries a sword (perhaps of justice?)
Behind her a traditional German castle and a small reference to the other Biblical Salome of a crucifix on the railings.
In addition to the classic watercolour treatment a very thin layer of red ink was added to the hair and tongue of the skull.
A portrait of your Mistress or special lady is the ultimate gift.

It can hang in her room for her to gaze on in the time
when you are not there.
It is as unique as herself.
There will never be another like it.
A photograph of her will never be so valued.
Her beauty will be immortalized.

"Quite by accident my glance fell on the massive mirror on the wall opposite and I gasped as I saw both of us pictured together in a golden frame.
The picture was so wonderfully beautiful, so strange and fantastic that I was seized by a deep sadness that its lines and colours should disappear like the mist.
"What is it?" she asked.
I pointed to the mirror.
"It is really beautiful. Such a shame one cannot hold on the moment."
"And why not?" I asked, "would not any artist, even the most famous, be proud if you allowed him to immortalize you through his paintbrush?"
"The thought that this exceptional beauty," I continued, looking at her with enthusiasm, "the wonderfully formed face, this remarkable eye with its green fire, its fiendish hair and bodily splendour - that all this should be lost to the world is terrible to me. The hand of an artist should rescue you - you should not be submerged like all the rest of us and forever, without leaving a trace of your existence behind."
Excerpt from novel "Venus in Furs" by Leopold von Sacher-Masoch Sardax translation



Lady Mephista
Germany

Domina Liza
Nottingham, U.K.

Mistress Nina Birch
London

Sidonia
Von Bork
West Country

Eurasian Goddess
U.S.

Mistress Kitty Dominatrix
Manchester, U.K.

Mistress Lubyanka 1
London

Mistress Georgia Payne
Los Angeles

Goddess Felicity
Colchester, U.K.


Mistress Suzanna Maxwell
Manchester, U.K.





Modern Empress
London


Mistress Tess
New York

Mistress
Kelle
Martina
Ohio, U.S.

Mistress Servalan
Australia

Princess Sheridan
U.S.A.




Lady Caroline
Wirral, U.K.


Mistress Eleise
De Lacy
Canada,U.K.

Mistress Ambrosia
Australia

Mistress Ezada Sinn
Romania

Mistress Sheri Darling
Los Angeles


Mistress Arella
Czech Republic

Mistress Vianne
Australia

Mistress Akella
London

Madame
Caramel
London,Dubai

Mistress
Liberty
London

Mistress Morrigan Hel

London

Mistress Lucy

Los Angeles

Mistress Jaded Halo

U.S.

Maîtresse Renee

Texas

Mistress Geo Pinch

Bristol, U.K.

Domina Sara

Milton Keynes, U.K.

Mistress Brown

Manchester, U.K.

Lady Sara Borgia

Birmingham, U.K.

Mistress Tess

U.K.
Goddess Kyaa

U.S.
Michelle Lacy

Florida
Mistress Jenn

U.S.
Mistress Elizabeth Swan

U.K.
She Controls

U.K.
Mistress X

U.K.
Lady Alshari

Germany
Mistress Chloe

New York
Mistress Troy

New York

Shauna Ryanne

U.S.




Mistress Amrita

International

Comtesse Prodige

Germany
Rebecca Knox

Los Angeles
Madame Caramel

London,Dubai
The Seasons of Mistress Lubyanka


Throughout 2009 I prepared portraits depicting each season of the year for this lucky mistress who has two already! The Russian writing on the frontispiece
gives her name in Cyrillic writing as befits her Russian ancestry.

See the development of a portrait