Seasons of Mistress Lubyanka - Autumn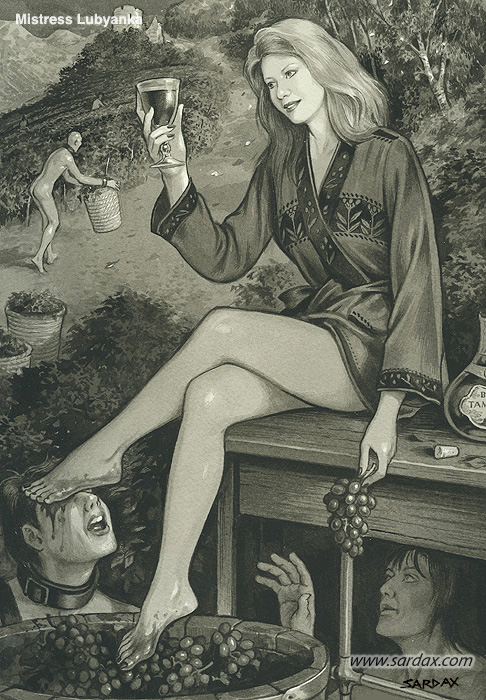 Note by the commissioner ....
"And with each Autumn I blossom anew"
In the mountain fastness of Her Kavkaz estates, where the tumbling vines cling to the steepling slopes and hang over the gorge of the mighty Terek, Mistress Lubyanka has come to oversee the harvest of the year's vintage. Already the leaves are falling gold and crimson from the trees, and whilst the sun's once fierce light falls feebler now, the midday air is still warm at this time of Autumn. Her serfs toil quickly, for the grapes must be gathered in before the night-time frosts take them. Snow already caps the distant peaks. Hither and thither they scurry, heaving the heavy baskets that brim with the rich crop. Mistress relaxes on a cage, tantalising the prisoner within, and playfully smears crushed grapes over the face of a slave who grovels in abject and blissful worship beneath Her feet. She samples a previous vintage, named for Tamara, the anti-heroine of Lermontov's poem – and is that the ancient tower of Tamara's ruined castle we see in the distance? She holds the glass to the light to admire the wine's golden lustre and exalts at Her control over all She surveys.
How radiant She is! Ageless and Beautiful as an Angel amidst the magnificent withering of Nature. By Her guile and Her art She has sown the seeds of our bondage in the fertile soil of our submission. Now She reaps the abundant harvest of our souls and distils their essence for Her pleasure; oh God, that i were worthy of Her!
See this Mistresses' website at http://www.lubyanka.eu