Mistress Ezada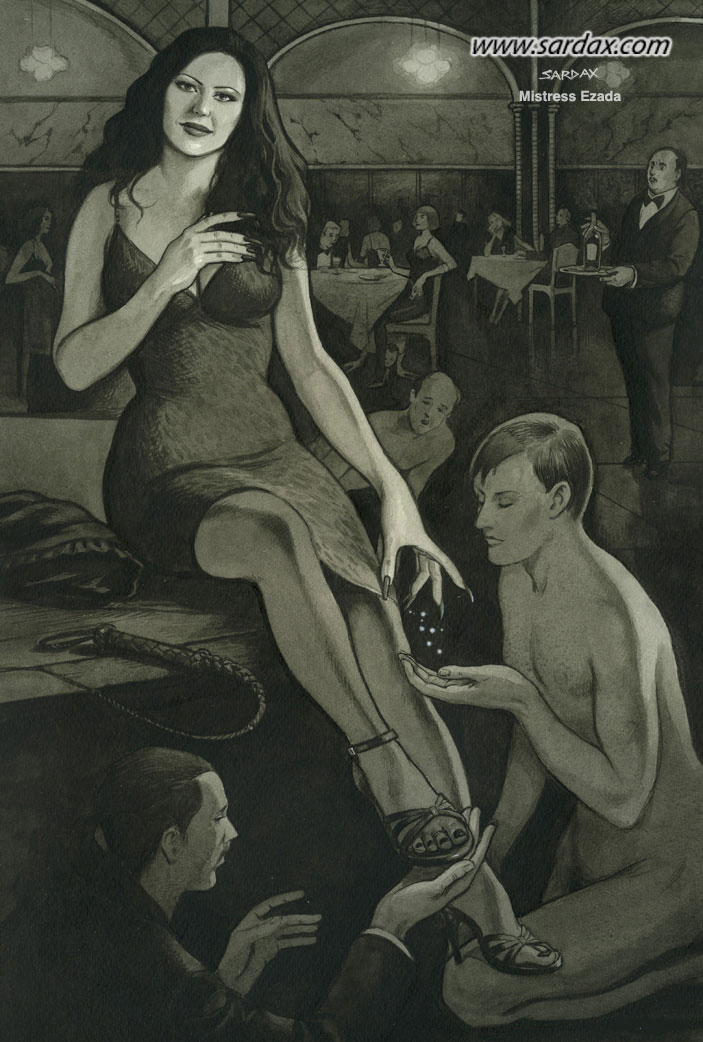 The picture shows the wonderful Mistress Ezada Sinn www.mistressezada.com. Ms Ezada Sinn is a true Lifestyle- and Pro-Domina from Bucharest, Romania, constantly travelling all over Europe to indulge in various filming activities and also SM sessions with carefully selected slaves. The painting was presented to her as a surprise by one of her German slaves who later wrote me:
Dear Sardax,
thank you once more for the beautiful portrait of my adored Mistress Ezada Sinn. Being able to present that to Her and then witness Her first looks at Her own immortalization in that wonderful and unique work of art was an experience i will never forget. She immediately loved the picture and i think she also very well felt what i have tried to convey with that present.
But not only this: The process of the creation of the painting was a wonderful experience in itself. You have been a great leader and company walking that path over months from the first ideas we interchanged and discussed, on to the first sketches and then to the final painting with all our thoughts and musings about the finest details. Working on that, trying to capture the heart and soul of my Mistress and transfering that to a work of art has been an experience that has even more intensified the bond between my divine Mistress and me. So, thank you once more and all the best for your future work. They are Goddesses and we pray at their feet.
Das Bild zeigt die wundervolle Herrin Ezada Sinn (www.mistressezada.com . Lady Ezada Sinn ist eine Lifestyle - und Pro- Domina ansässig in Bukarest, Rumänien, jedoch ständig auf Reisen in ganz Europa. Schwerpunkt Ihres dominanten Schaffens sind Ihre Filmproduktionen in denen Sie Ihre dominanten Phantasien vor der Kamera Realität werden lässt. Wenigen ausgesuchten Sklaven gewährt Sie private Sessions. Das Gemälde war eine Überraschung von einem ihrer deutschen Sklaven, der mir später folgendes dazu schrieb:
Lieber Sardax ,
herzlichen Dank noch einmal für das wunderbare Porträt meiner angebeteten Herrin Ezada Sinn. Die Möglichkeit, Ihr dieses Bild zu schenken und dann Zeuge Ihrer ersten Blicke auf die eigene künstlerische Verewigung zu werden, war eine Erfahrung, die ich nie vergessen werde. Sie hat sich sofort in das Bild verliebt und ich denke, dass Sie auch genau empfunden hat, was ich Ihr mit dem Bild vermitteln wollte.
Aber nicht nur das: Der Prozess der Entstehung des Gemäldes war ein wunderbares Erlebnis für sich. Sie waren ein großer Führer und Gefährte auf diesem monatelangen schöpferischen Weg. Von den ersten Ideen, die wir ausgetauscht und diskutiert haben, über die folgenden noch rohen Skizzen und dann bis zur Endfassung mit all unseren gemeinsamen Gedanken und Grübeleien über die feinsten Details. Der Versuch, das Herz und die Seele meiner Herrin zu erfassen und in ein Kunstwerk zu übertragen, hat die Bindung zwischen uns ohne Zweifel nocht vertieft.
Also, vielen Dank noch einmal und alles Gute für alle zukünftigen Arbeiten. Sie sind Göttinnen und wir beten zu Ihren Füssen.
Ihr
frank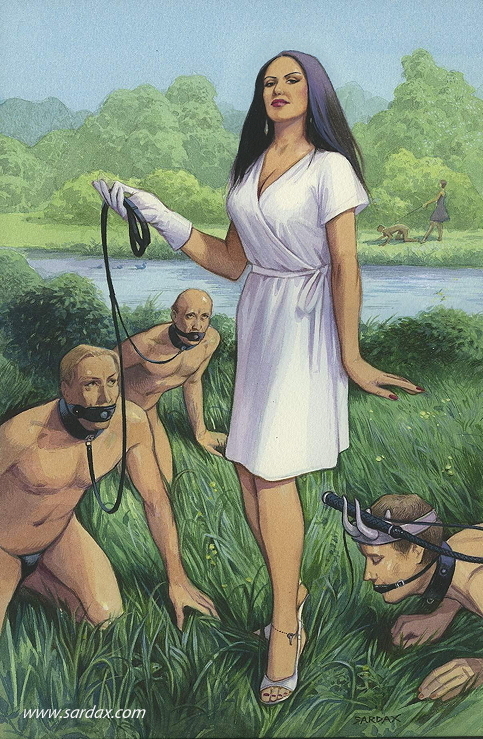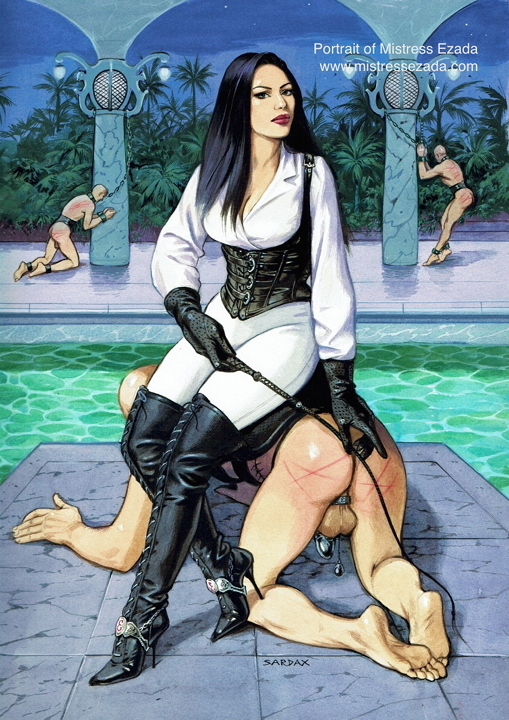 The latest Christmas portrait of Mistress Ezada
A present from her "slave in training" (sit) who fittingly acts as her seat. See his blog
The portrait was inspired by Mistress Ezada's trip to Costa Rica and her love of the single tail whip.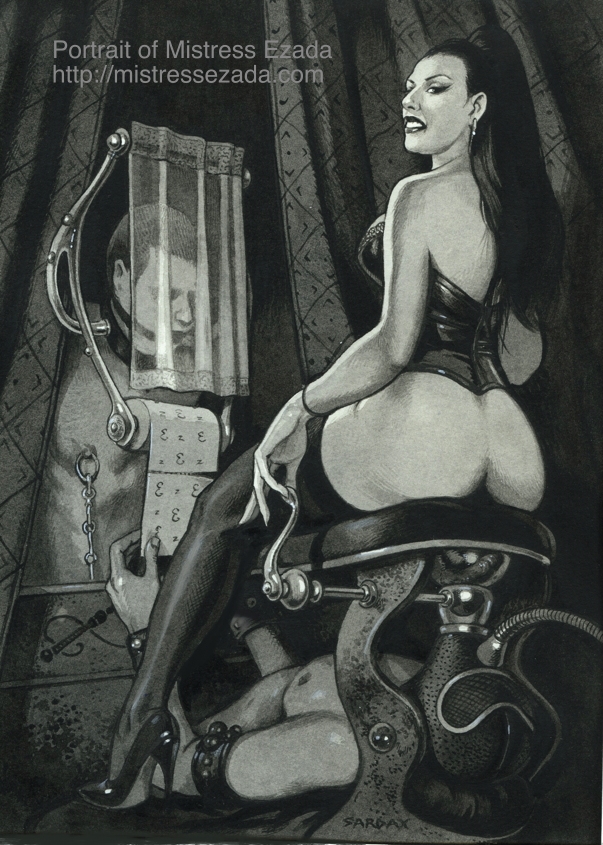 The theme for this special portrait was unusual for me.
I have usually avoided the depiction of what is known as "hard sports" for the only reason that it almost always looks crude and demeaning - indeed to the mistress herself. I have never seen it handled sensitively even by top artists.
So it had to be treated with delicacy and taste. Seated on this bizarre throne, Mistress Ezada's hand rests lightly on a handle connecting to a valve-shaped scoop, which on turning will release her wastes into the tube below, down to the tightly enclosed victim - who can however breath through the tube inserted above. Like some strange insect he has no freedom of moving his head. However his hands can serve the purpose of tearing off her monogrammed paper, the roll itself held up by another slave from a holder attached to a collar around his neck. A curtain veils this creature from view and prevents him from observing the intimate moment.