Seasons of Mistress Lubyanka - Summer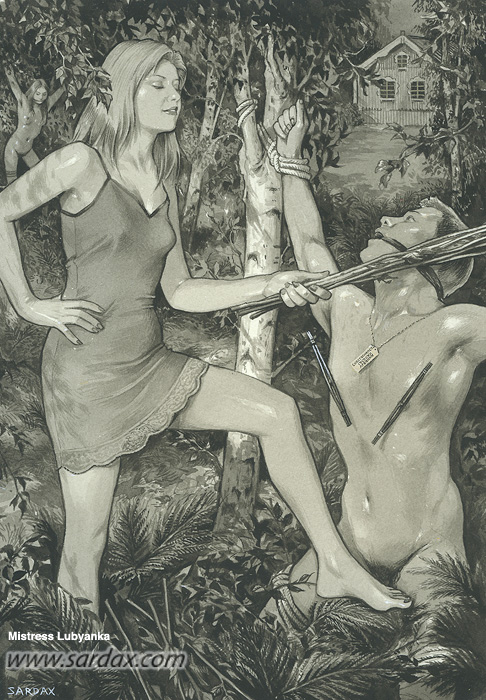 Note by the commissioner ....
In the stifling heat of the Russian summer, Mistress has retired to a secluded dacha nestling in the shady heart of an ancient forest of silver birch. The endless woods are Her private pleasure gardens; here and there Her slaves are strung up, naked and helpless amongst the trees, awaiting the sweet agony of Her touch. She strolls amongst them, so Elegant, so Beautiful, clad only in the diaphanous silk of Her delicate dress. Mid-summer ferns form a soft carpet upon which She wanders amidst the dappled leaves.
It is my joy to be one of these slaves; and it is at this moment my privilege to be the object of Her cruel amusement. A sheen of sweat glistens over my hairless body as i strain against the unyielding bondage of the ropes that bind me kneeling and exposed before Her. A silver chain around my neck bears the tag that identifies me as Her property. Harsh clamps torture my nipples and a leather gag muffles my blissful moans of anguish. Mistress stands before me, abusing me with Her bare feet. She turns my head towards Her with the bundle of birch rods with which so soon She will thrash me. My face is contorted by a mixture of fear and adoration, of pain and desire, as i submit to the exquisite ecstasies of Her torture. Gaspazha glows in the luminous heat. She smiles exultantly at the suffering of Her slave and is cooled by a nerve-tingling quiver of pleasure from my torment. For She knows that this is the very instant when Her slut has finally understood that he exists only to provide Her with gratification and enjoyment. She truly owns me; before it was just my body, but now my soul is Hers, forever.
See this Mistresses' website at http://www.lubyanka.eu