Madame Ingrid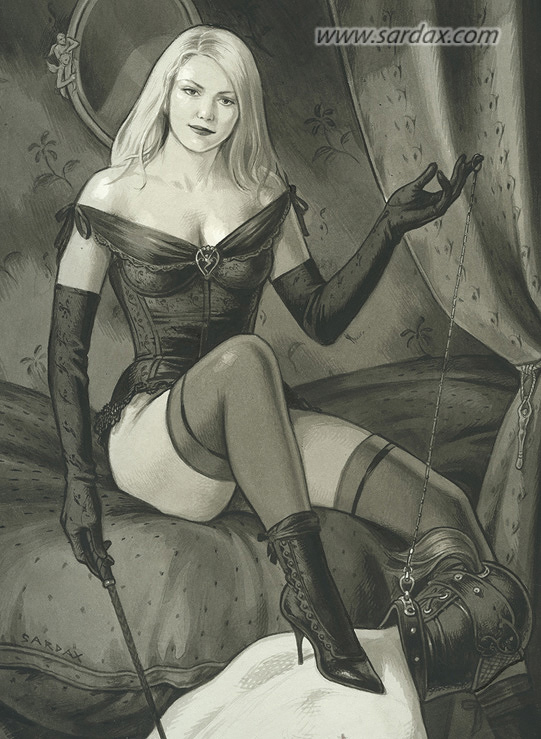 Commissioned by an admirer as a birthday present.
(Was at Supervixenbitch.com. Apparently now retired.)
An unsolicited testimonial from the commissioner
The Portrait of Madame Ingrid of Pittsburgh PA
Commissioned by Her loyal slave footboy as a gift for Her Birthday
Upon completion of this portrait by Sardax, I offered to pen a testimonial for him to use because I was so incredibly pleased by not only how the portrait turned out, but by the entire experience from start to finish working through this process with him.
It started back in July 2007 when I decided it would be cool to really surprise Madame Ingrid with something special for Her birthday this year. By way of a bit of background, I have been seeing Madame Ingrid for about 4 years now. We've had over 15 real-time sessions over that period. If you subscribe to Her site (supervixenbitch.net) you will find a section in under writings entitled "A moth to the Flame" which chronicles our committed long distance training relationship from Oct/Nov 2006 through about April 2007. In many ways this relationship continues and I suppose this gift idea stemmed from it.
Ok, so enough background.
I reached out to Sardax via email in mid to late July as I had no idea of how long this might take, what the costs would be etc. He wrote back very promptly and provided a link regarding commissioning work that was not visible on his web site. The information contained on these pages outlined the exact process by which a work would be commissioned. The portrait options (ink drawing, black and white watercolor, etc) sizes and costs where clearly outlined along with what sorts of pictures and other information Sardax finds most useful in creating his portraits.
One of the elements I most appreciated is the stated preference for the commissioner to provide ideas for the portrait, setting, content etc from which he could then work his magic. Over the course of the next two months, we exchanged a variety of emails starting with the pictures and my basic idea (which you see in the portrait). At each milestone, Sardax sent me a scan of the draft of the work. He was always asking for my inputs and comments, making every effort to tailor this portrait to what I wanted it to be. It was a brilliant process. While the work is entirely his of course, I really felt a part of the creative process and that he wanted me to be a part of the process. I think the result speaks for itself.
As to Madame Ingrid's reaction, I don't think She would mind me repeating that it was the most thoughtful and creative gift she had ever received and She is very happy to own such portrait and will treasure it always. I could not have asked for a better reaction. I visited Madame Ingrid over this past weekend, She needed a slave to take Her birthday spanking after all. She showed me the actual finished work. It's simply phenomenal. She was just so happy with it.
Sardax, you have my ending thanks. To anyone else out there who wants to provide your Mistress with a really unique and special gift, I simply cannot recommend enough engaging our friend here to create one of his fantastic works of art.
Sincerely,
K B
aka, Madame Ingrid's slave footboy