Venus in Furs
Venus in Furs, by Leopold von Sacher-Masoch,
is THE classic romance of tragic eroticism, depicting Severin's intense adoration for Wanda, his overwhelming desire to be her slave and their developing relationship.

This is a totally new edition, with exclusive illustrations - ten sumptuous full-page watercolours and twenty line-and-wash drawings.The edition also features a new translation from the original German, so this really is a very special collector's item.

This notorious novel was first published in 1870, giving rise to the term "masochism" and it has never been out of print since. It has inspired films, songs and stage play.
Printed hardback
A must for the femdom devotee, the ideal gift for every mistress and curious partner or simply for the lover of great erotica.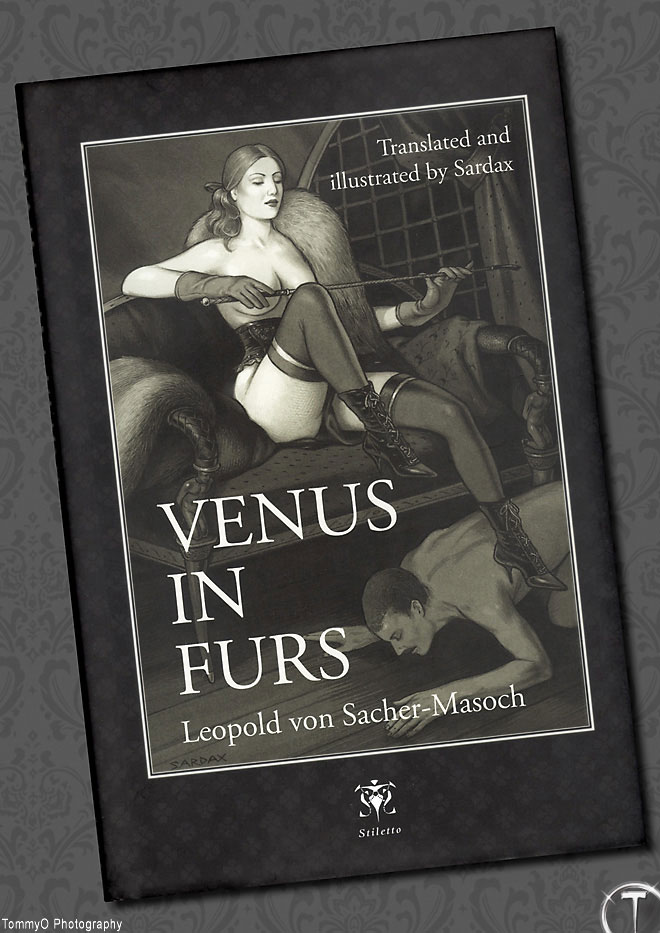 Cover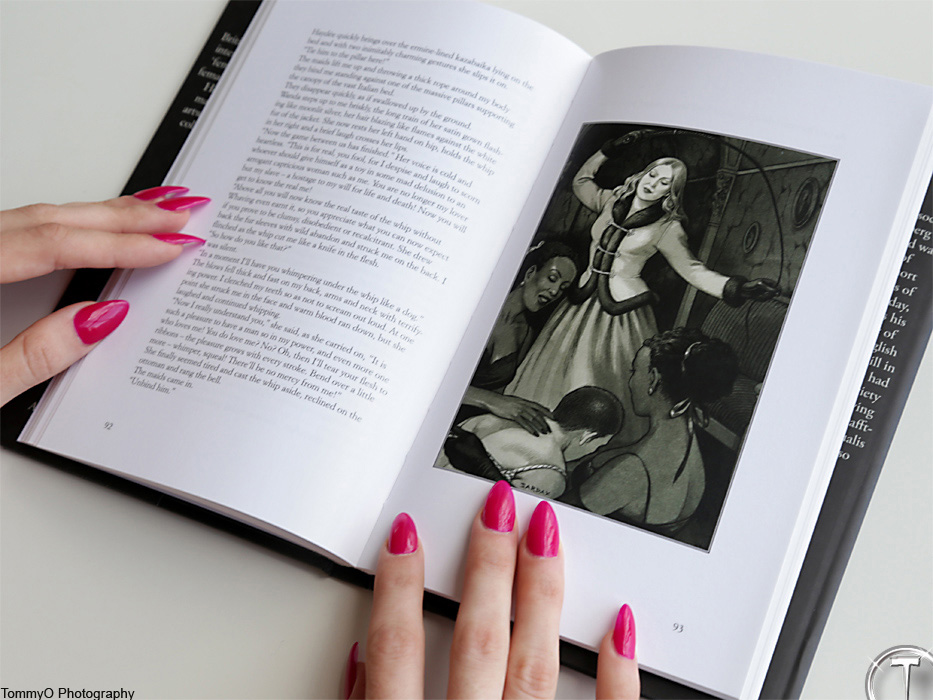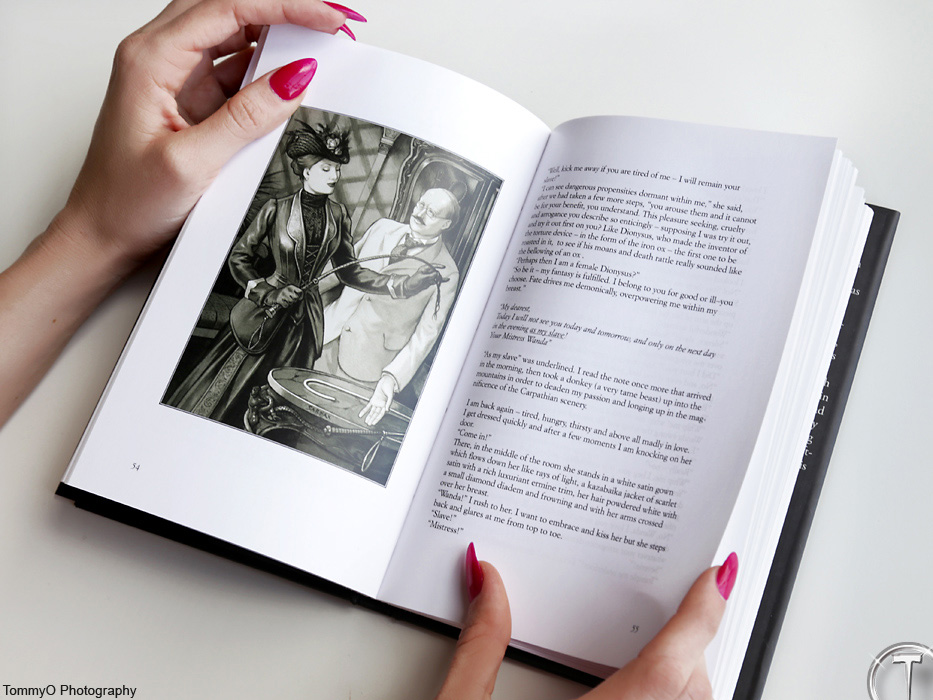 Photos courtesy of Tommy O Photography
Hands of Mistress Maroe
Full page watercolours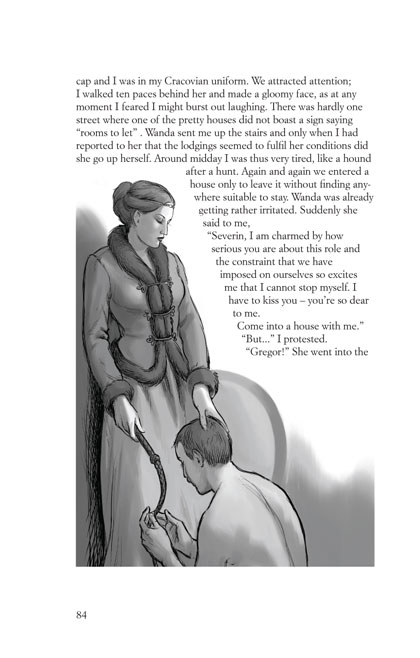 Just 2 of the 20 additional ilustrations
Read Chapter 1 here


Specifications:
225mm x 145mm (8.75 x 5.75 inches )
Hardback cover with silver blocking -139 pages on thick quality paper - 4-colour printing .
Translation from German with 10 full page illustrations and 20 additional line and wash illustrations
"Venus in Furs" is published by Stiletto Books .
ISBN: 9781903908600
Retail Price £30
BUY NOW AT
Dirty Sexy Words (no sales to U.S.)
or directly from Sardax.com . Inquire at admin(a)sardax.com for payment options and about signing and dedication.
The watercolour illustrations
The sardax.com logo is not on the illustrations in the book itself
Read the review by Mistress Ayn .
Excerpt
The bathroom was a broad, high rotunda. The pale light fell peacefully from above through the red glass dome. The broad leaves from two palms formed a canopy overarching a day bed with red velvet cushions, from which steps covered with Turkish carpets led down to the broad marble pool in the middle.
"Above on my bedside table is a green ribbon," said Wanda, reclining on the day bed, "Bring it to me - and also the whip."
I flew up the stairs and returned, knelt and placed both in the hands of the Mistress. She had me lift up her sumptuously thick hair into a large knot and secure it with the green velvet ribbon. Then I prepared the bath, proving quite clumsy in doing so, for my hands and feet refused to do their duty.
I was compelled to look at this beauty lying on the red velvet cushions; it was not my will to do so - it drew me like a magnetic force. Whenever I did so I felt that all lust and lasciviousness lies in the arousal caused by half-undress and disrobing, and I felt it even more when the pool was filled and Wanda threw off her fur with one motion and stood before me like the goddess in the Tribuna.
In that moment she seemed to me in all her unrobed beauty so divine and pure that, just as before with the goddess, I fell on my knees before her, and reverentially pressed my lips on her foot. My soul, which before was inundated by such wild passions, now became suddenly calm and even Wanda could not feel cruelty to me. She slowly descended the steps and I could watch her with a quiet joy, unmixed with any trace of longing or torment. She bobbed up and down in the crystalline waters and the waves that she provoked seemed to play amorously around her. Our nihilist aesthetician is correct. A real apple is more beautiful than one depicted and a living woman more fair than a Venus of stone. As she then climbed out of the bath and the silvery drops trickled down her in the rosy light I fell into a speechless ecstasy. I wrapped her in linen and dried her magnificent body and that quiet bliss remained with me, as she again rested in her large velvet-lined coat on the cushions, with one foot on me as if on a stool. The undulating sable fur hugged her cold marble-like body tightly and the left arm on which she rested lay in the dark fur of the sleeve like a sleeping swan while her right hand played casually with the whip.
Quite by accident, my glance fell on the massive mirror on the wall opposite and I gasped as I saw both of us pictured together in a golden frame. The picture was so wonderfully beautiful, so strange and fantastic that I was seized by a deep sadness that its lines and colours should disappear like the mist.
"What is it?" she asked.
I pointed to the mirror.
"It is really beautiful. Such a shame one cannot hold onto the moment." "And why not?" I asked, "would not any artist, even the most famous, be proud if you allowed him to immortalise you through his paintbrush?
"The thought that this exceptional beauty," I continued, looking at her with enthusiasm, "the wonderfully formed face, remarkable eyes with their green fire, its demonic hair and bodily splendour - that all this should be lost to the world is terrible to me. It grips me with all the horror of annihilation and death. The hand of an artist should rescue you - you should not be submerged like all the rest of us and forever, without leaving a trace of your existence behind.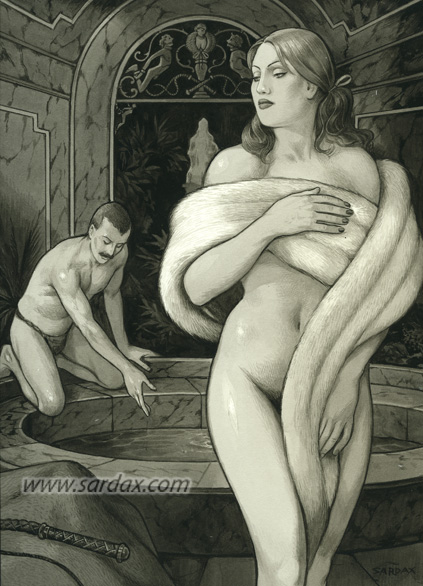 Who is Wanda?
Who is the model for Wanda? It's a question I am frequently asked. It is in fact based on this lady .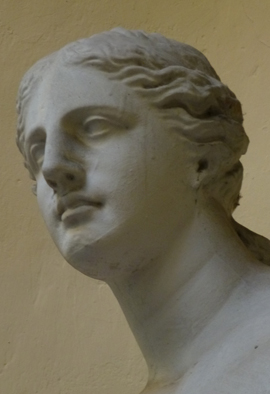 The Venus de Milo of Praxiteles-extremely famous in antiquity and basis for many copies of classical sculpture - in the book Sacher-Masoch states that Wanda's features were Grecian. I took the basic shape of the sculpture's head and brought it to look like a modern person. Before I'd never quite understood that sort of beauty but now it gives a strange, other-worldly look to Wanda, which I liked.
E-book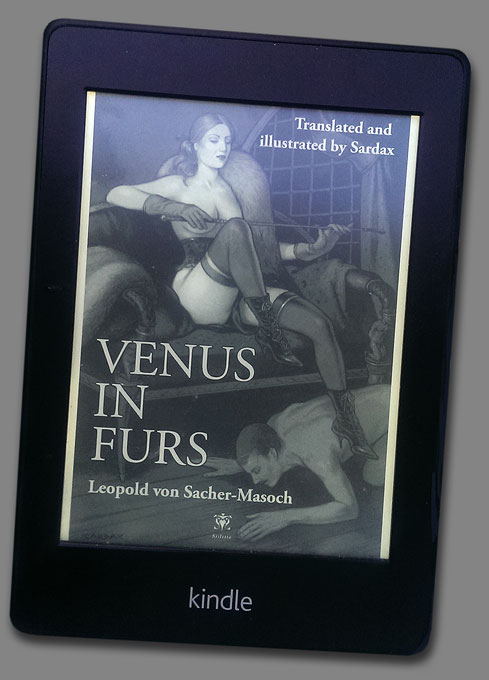 The ebook version of Venus in Furs is now available on Amazon. It contains all 10 of the main watercolour illustrations as the hard-back BUT NOT the 20 additional line illustrations.
Buy now
http://www.amazon.com/dp/B00BLQ47G0
$6.11
http://www.amazon.co.uk/dp/B00BLQ47G0
£3.60
Kindle e-books can also be read on most tablets, including iPads and iPhones using the kindle app.