Commissioning
Update: Regrettably as of September 2016 I am not taking on any more commissioned work until I have worked through several months backlog. I will be inviting more commissions sometime in 2017.
I am happy to discuss all types of femdom illustration - I can take your vague fantasy and realize it as a drawing which, as one satisfied client put it, ".. is looked at almost every day, while the "normal" stuff on the wall fades into the decor." Alternatively I can work to your tightest brief, from photographs if necessary.
If you want to learn more about the actual process go here.
To read more about who commissions and what is commissioned go here
Price
For those who would like some indication of fees before they approach me with an idea, I'm giving a general guide below . Please remember that these are only "ballpark" figures. Prices vary according to size of picture, technique(i.e. pen-drawing or watercolour)
Format


Approximate Price
in U.K. Sterling (pounds)

A4 Pen & Ink
(black& white)
drawing
297 by 210mm
11.5 in. by 8

£300-450

A3 Pen & Ink
(black & white)
drawing
420 by 297mm
16 in. by 11.5

£450-700

A4 Watercolour
(tone)
Painting
297 by 210 mm
11.5 in by 8

£700-900

A3 Watercolour
(tone)
Painting
420 by 297mm
16 in by 11.5

£800-1200
Convert to other currencies here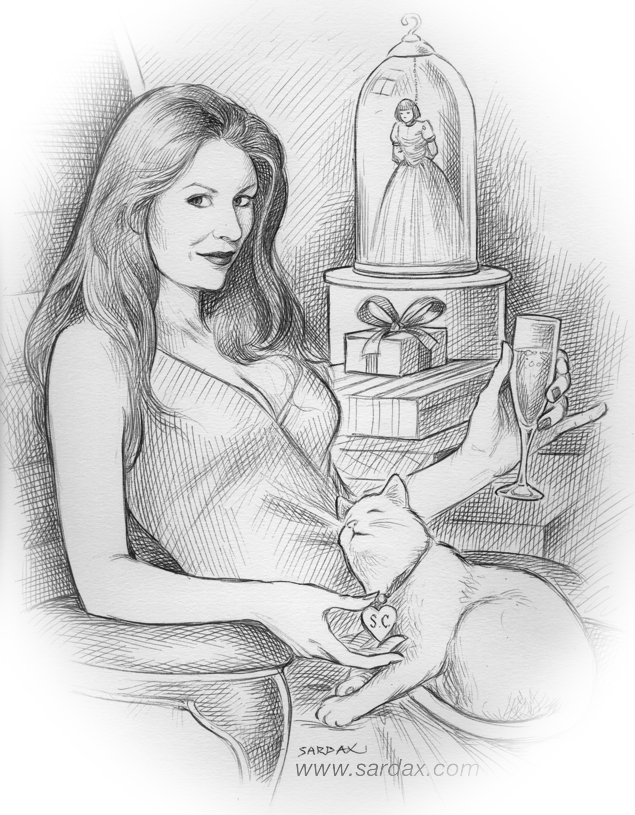 Example of pen and ink drawing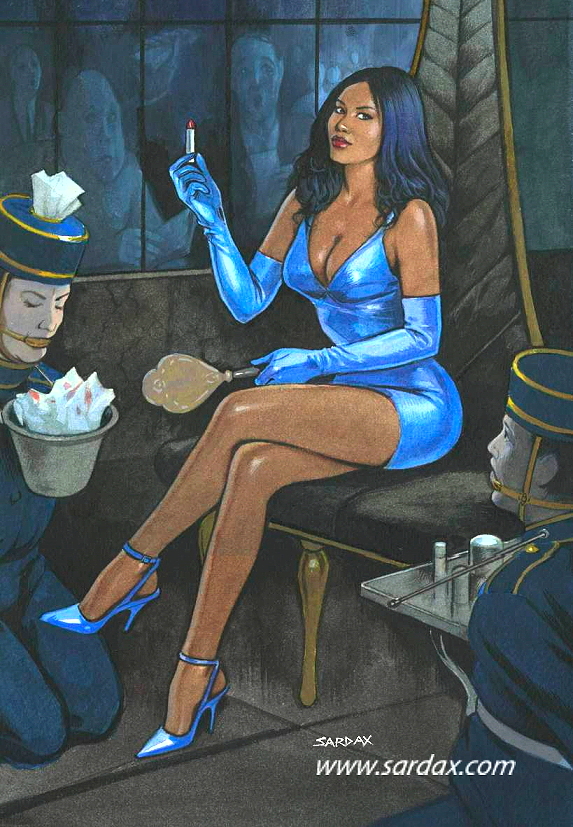 Example of watercolour painting - can also be in monochrome, the "classic style"

To see more portraits like this made over the years go to the portraits page


The Sardax original is yours to keep but it may not be reproduced without the artist's express permission.
Sardax retains the right to publish in all media. If you have concerns about the privacy of the image and identity of the characters displayed, this can be readily discussed in the planning stage and adjustments made to the satisfaction of all concerned. In most cases the scanned image can now be modified digitally to alter the features of the subject(s) while leaving the original untouched.


Your contact name and address are handled carefully and confidentially, and are not retained on any computer database.
Gift token
If you prefer a gift token can be bought and given, maybe in the case of a Mistress who you would like to surprise but wish to give her the choice of subject, or wish to give someone else the opportunity to commission as a present.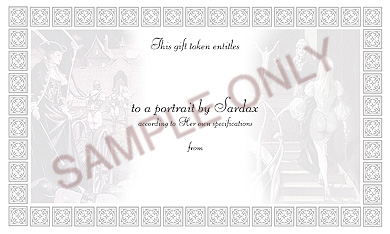 Please note - As of September I am booked until May 2017.


You can however enquire at any time and make a deposit.

Payment Options
Please enquire.
A deposit of one half the total fee is required before commencing the artwork.

Back to Free Area